Jan

20

2012
William K. Vanderbilt Jr.'s sister Consuelo, the Duchess of Marlborough (center wearing a white blouse) was among the 5,000 spectators gathered at the Mineola grandstand for the 1905 Vanderbilt Cup Race. A 2010 profile from kimmystyle.blogspot.com is reposted here, supplemented by images from my collection.
February 3, 2010
Consuelo Vanderbilt: Duchess of Endurance
Heiress Consuelo Vanderbilt was born to New York railroad tycoon William Kissam Vanderbilt and his Mobile, Alabama belle and soon to be suffragette Alva Erskine Smith Vanderbilt on March 2nd, 1877 in New York City. Named after her half-American, half- Cuban socialite godmother Consuelo was the ultimate bachelorette of the Golden Age. Notoriously dominated by her quick-witted, extremely ambitious and endlessly self publicizing mother Alva, Consuelo was groomed for marriage to an aristocrat.
In her autobiography she stated she was rigorously educated via tutors and governesses and had mastered reading and writing of French and German languages by the age of eight.

Her mother made sure her posture was correct as she had a steel brace fashioned from Consuelo's forehead to her waist which would later garner her accolades for her regal carriage.

Consuelo was five-eight, very slender with a delicate nose and thick wavy, dark hair. She was warm and very kind and captivated all who came to know the lovely beauty. And it would come as no surprise that the same beauty that was whipped by a riding crop for minor infractions and was told once by her mother when she objected to wearing an outfit chosen by her, "I do the thinking, you do as you are told."

Consuelo's mother would later receive five proposals for her daughter's hand in marriage but Consuelo was only allowed to choose only one of them, Prince Joseph of Battenberg whom Consuelo did not love.
The lovely Consuelo, whose stunning beauty caused the playwright Sir James Barrie, author of Peter Pan to write, "I would wait all night in the rain to see Consuelo Marlborough get into her carriage," came to embody the slim, tight look that was in vogue during the Edwardian era and she was the prized marital catch of that period.

And at the age of eighteen Alva devised a meeting between Consuelo and Charles Spencer-Churchill, 9th Duke of Marlborough and owner of Blenheim Palace. Consuelo had no interest in the elitist duke for she was secretly engaged to American Winthrop Rutherford but her mother vehemently forbade it and ordered her to marry the duke.

When Consuelo objected she was locked in her room, yet she still objected. It was only when Alva claimed Consuelo's stubbornness was causing her health to fail (she acted as if she was on death's door) did poor Consuelo agree to the marriage that would propel the Vanderbilt's into an even higher ranking of aristocracy and the money poor, land rich Duke of Marlborough into being able to maintain his beloved Blenheim Palace.

On November 6th, 1895 Walter Damrosch's sixty man orchestra was completing their set of Wagner and Tchaikovsky, policemen were keeping curious citizens at bay at St. Thomas Episcopal Church in New York City and the bride, Consuelo Vanderbilt was home crying and pleading uncontrollably in the arms of her father for him to rescue her from a marriage she never wanted.

Pink and white roses on feathery palms at the end of pews, vaulting arches of asparagus fern, palm foliage and chrysanthemums, orchids suspended from the gallery; vines wound round the organ columns; floral gates constructed from small, pink posies and sweeping strands of lilies, ivy and holly swaggering from dome to floor set the scene for Consuelo being walked down the aisle by her father, tears streaming underneath her veil.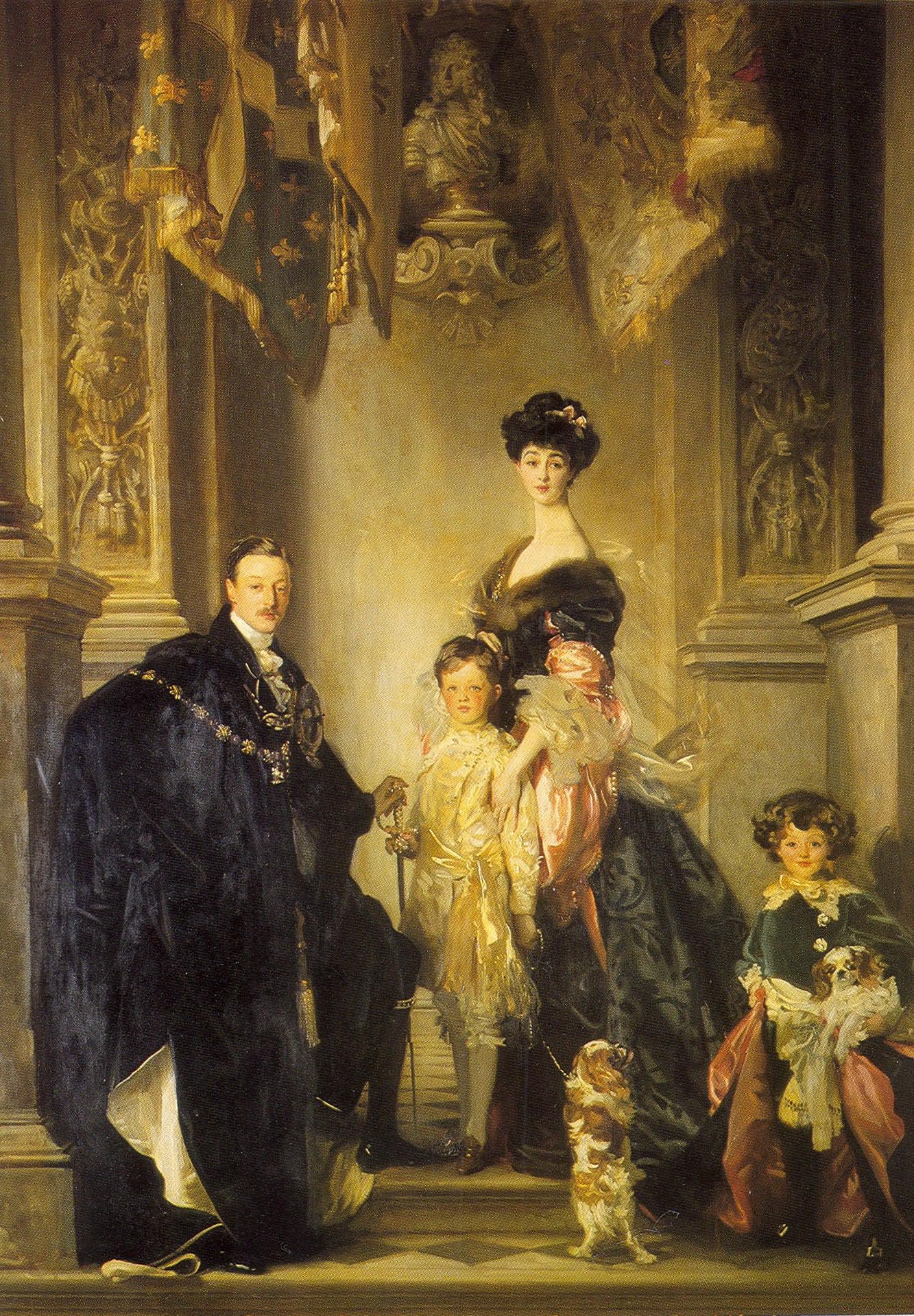 The Duke of Marlborough received 2.5 million (75 million today) in railroad stock as a marriage settlement along with money for repairs needed for Blenheim Palace. And after a long, wretched honeymoon, Consuelo Duchess of Marlborough assumed her new role and gave birth to John Albert William Spencer-Churchill, Marquess of Blanford, who would later become 10th Duke of Marlborough and his brother Lord Ivor Spencer-Churchill.

Consuelo called them the "heir and the spare" and it is said she initially coined the phrase.

The new duchess was beloved by the poor and less fortunate tenants on her husband's estate whom she often visited and provided assistance.

She became known more so for her philanthropy, especially projects directly affecting mothers and children. Royalty and the aristocracy of Britain adored her as well.

But the marriage was not to last for the ill-fitted match was annulled at the duke's request and Consuelo's consent on August 19th, 1926.

The annulment surprisingly was fully supported by Alva who later told an investigator, "I have always had absolute power over my daughter, I forced my daughter to marry the duke."

In latter years Consuelo and her mother enjoyed a closer, easier relationship.
Consuelo did find true love in her life with her second marriage on July 4th, 1921 to wealthy French Air Force officer and aviation pioneer Lt. Col. Louis Jacques Balsan who worked with the famous Wright Brothers.

He was the younger brother of Etienne Balsan, an early lover of iconic fashion designer CoCo Chanel.

Consuelo's new life with her husband made her very happy and she authored her autobiography The Glitter & the Gold, published in 1953 where she refers to the "Gold" as her time with her husband Balsan and the "Glitter" as her earlier marriage. Her beloved Jacques died in 1956 in America and was buried in Paris.

Consuelo Vanderbilt Balsan, Mother of the Tenth Duke of Marlborough died at the age of 87 on December 6th, 1964 in Southampton, Long Island, New York and is buried alongside her youngest son Lord Ivor in Oxfordshire, England.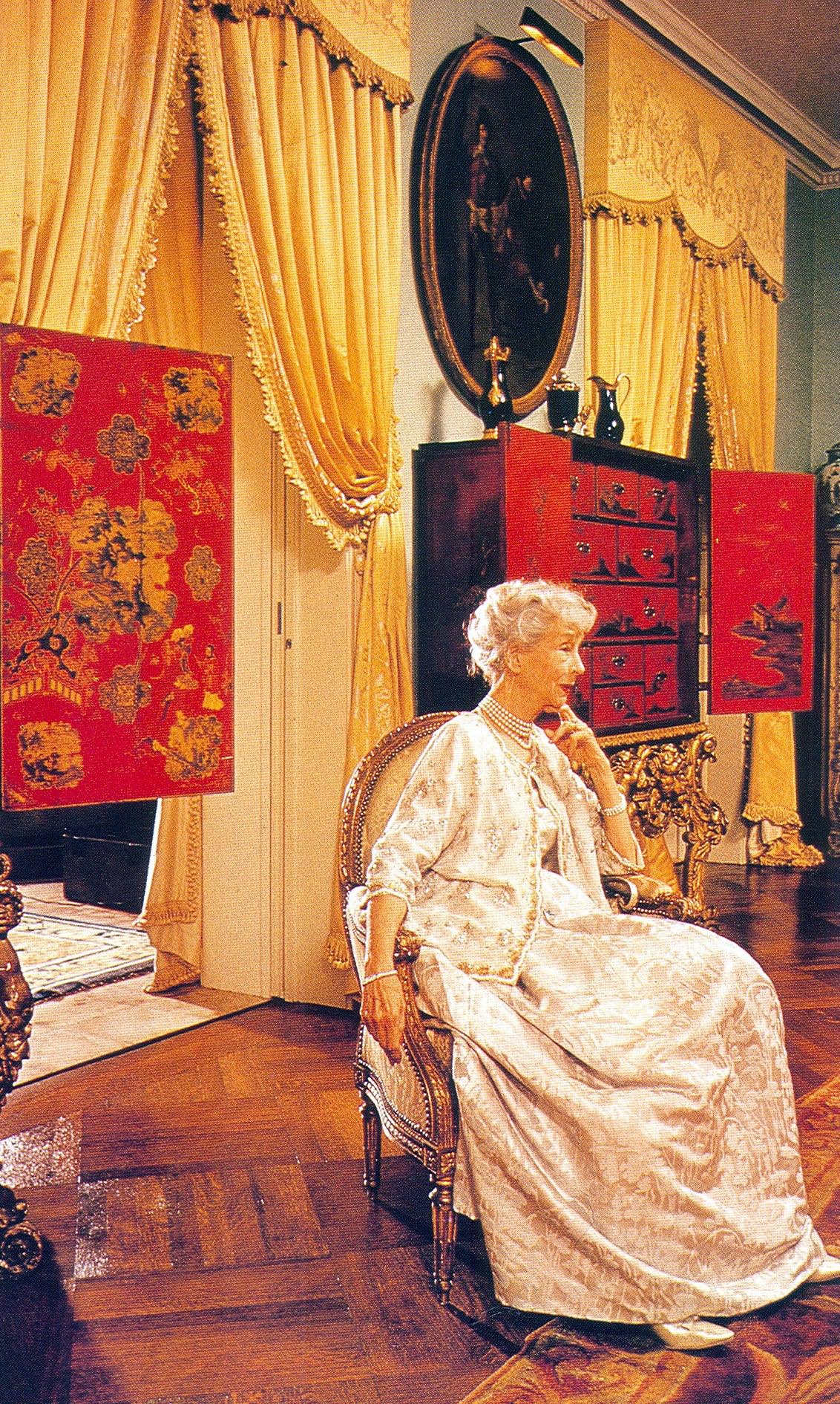 Consuelo Vanderbilt endured immeasurable heartache, surviving a very strict upbringing and a domineering mother only to be placed in the hands of a man who did not love her.

Yet, she overcame the numerous adversities set before her to become a legacy of kindness, style and grace that could rival even the most elegant and jaded of social aristocracy.
Links to related posts on VanderbiltCupRaces.com
Archives: William K. Vanderbilt, Jr.

Index: Archives on VanderbiltCupRaces.com