Jan

26

2012
During the 1909 Vanderbilt Cup Race, two other sweepstakes races (the Massapequa Sweepstakes and the Wheatley Hills Sweepstakes ) were run simultaneously for commercially available stock cars. The Wheatley Sweepstakes had only four entrants for the "sub-class 3" stock cars with engines 231 to 300 cubic inches. The winner received a prize of $1,000.
1909 Wheatley Hills Sweepstakes Summary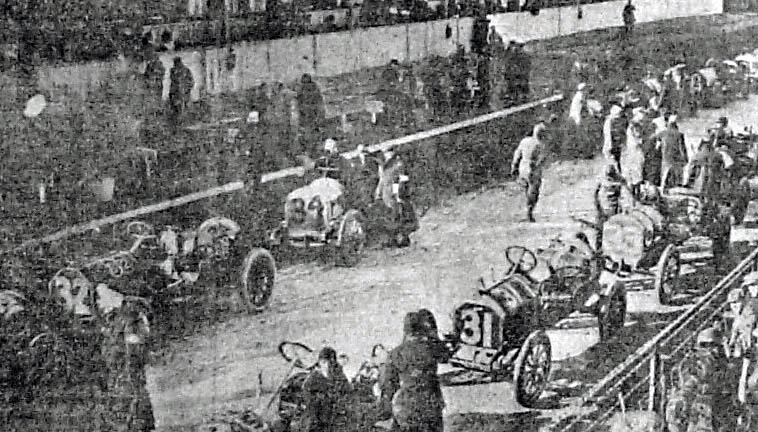 The 1909 Wheatley Hills Sweepstakes could be described as a bust. With but four entries, only one could finish the 15 lap, 189.6 mile race. That was the # 32 Marmon of Ray Harroun, who less than two years later would win the first Indianapolis 500 in another Marmon, also carrying the #32.

Harroun won in a runaway, his nearest competitor being R.W. Wilcox in a Columbia, who completed only 12 laps. Another driver, A. Monsen, inspired the grandstand crowd with his persistence. His Marion car kept blowing out the gaskets of its intake manifold, forcing pit stops on every lap.

Monsen completed only eight laps, his fastest at 36.5 miles per hour. Conversely, Harroun never needed a pit stop, running his fastest lap at 62.7 miles per hour and averaging 59.7 miles per hour for the entire distance.
Harroun's dominance was clear throughout the race. By lap 10 he had not only lapped all his competitors, but also held an additional edge of 5 minutes over second place Wilcox. The only other car in the race, Phillip Wells' Moon, was never a factor, retiring on the seventh lap.


Starting Lineup
#31 Marion driven by A. Monsen. Finished 3rd completing 8 laps.
#32 Marmon driven by Ray Harroun. Finished 1st completing all 15 laps.
#33 Columbia driven by R.W. Wilcox. Finished 2nd completing 12 laps.
#34 Moon driven by Philip Wells. Finished 4th completing 6 laps.